DENT CRAFT CANADA
Dent Craft Canada was founded by Josef Gogel and Chad Galitzky, two long time friends who teamed up to start their first company. The year was 2010, and their vision was to create a mobile paintless dent repair company that cared about customer experience, provided top-notch service and the best dent repair in the business. At the outset they focused their business on dealerships and body shops throughout Greater Vancouver, and as a loyal corporate base grew, they decided to expand to provide the same top-tier service to private owners at their homes and businesses. A few years later, through regular upgrades to technology, tools and technical skills, Dent Craft became Vancouver's go-to leader in paintless dent repair. But with great success comes challenges, Chad and Josef were barely able to keep up with the demand. So in honour of their corporate philosophy to always provide top-notch customer service they decided to recruit a third technician. In 2016, Eric McGill was welcomed to the team. From its humble beginnings in a Cambie Street condo to the thriving business it is today, the team at Dent Craft looks forward to a bright future leading the way as one of Vancouver's most trusted teams in dent repair.
THE TEAM
Josef has been in the paintless dent repair business for almost 20 years. He strives for the highest quality of perfection and has experience in training other technicians in the art of PDR. He regularly attends advanced skills seminars and industry trade shows to stay on top of new tools and techniques. Josef is definitely the tool guy on the team! When all tools get put aside, he likes to travel back East to Montreal and hike some of the local trails with his family.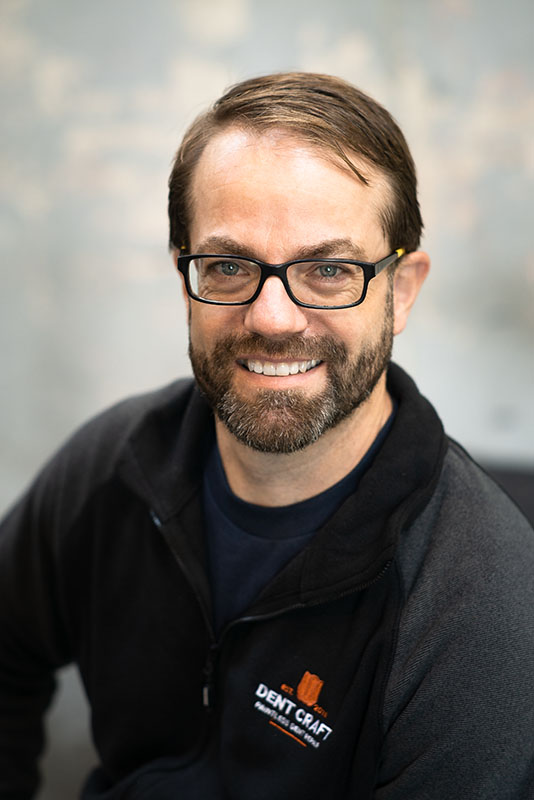 Chad has been repairing dents since 2004. He grew up in the Coquitlam area and lives in the same Cambie Street condo where Dent Craft started. He enjoys challenging himself with difficult dents and is always looking for ways to improve his skills. He loves getting new tools and is addicted to gadgets. He also likes meeting new people through the business. Chad travels quite a bit and has recently been to South Africa, Portugal and Spain. He watches a lot of European soccer and loves going to the Whitecaps games with friends. You'll find him in the Southside at almost every game.
Eric joined Dent Craft in 2016. He was very interested in the paintless dent repair business and was practicing on a hood before he started training with Dent Craft. Originally from Ontario, Eric has picked up dent repair very quickly and has shown a great deal of mastery in a short period of time. He loves spending his time in the outdoors and practices snowboarding, back country skiing, rock climbing, camping, and hockey.